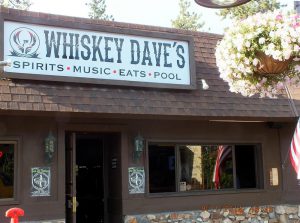 Live bands on weekends, fabulous food, 6 pool tables, foosball, full bar with craft beers, 16 beer taps, 20 TV's featuring all college and pro games (NFL package), amazing good looking and friendly staff.
Whiskey Dave is the resident ghost who like to party with fun people. He doesn't know he's dead, so don't tell him!
40740 Village Dr, Big Bear Lake, CA.
909-866-DAVE (3283)
Website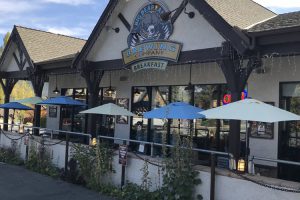 Big Bear Lake Brewing Comp.
Welcome To Big Bear Lake Brewing Company! Enjoy an entertaining and unique GastroPub Environment set with Craft Beers, Liquors and Spirits along with a strapping selection of refreshing beverages. And of course what is a Restaurant without food? To compliment the wide choice of refreshments We have a ContemporaryAMerican GastroPub styled Menu Serving Gourmet Artisan dishes, daily for Lunch And Dinner. The best part of this fantastic choice of establishments is that we are open Seven days a week, leaving the freedom to come see us nearly any time!
40827 Stone Rd Big Bear Lake, CA
909-878-0283
Website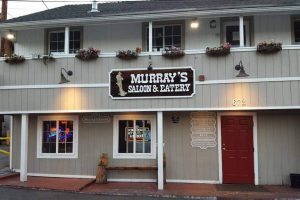 For over 25-years, Murray's Saloon and Eatery has been serving the Big Bear area. We are locally family owned and operated, and we're a local favorite for bikers, skiers, and hikers. We're open 7-days a week. We don't close for fire, flood, snow, or electricity malfunctions so come hang out and enjoy a delicious meal at our bar and grill.
672 Cottage Ln Big Bear Lake, CA.
909-866-1444
Website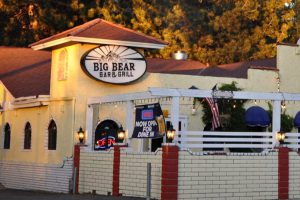 Great Food, Great Drinks and Amazing People
We're proud to serve locally sourced food.
We combine traditional preparations with local ingredients, for dishes that are authentic to both their Spanish origins and California settings.
Full bar with daily drinks specials… 2 large outdoor patios.
Karaoke or Live Music at least 4 nights per week.
42164 Moonridge Road Big Bear Lake, CA
909-878-0802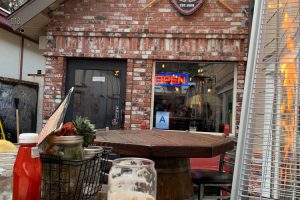 Fire Rock Burgers & Brews
Located in the heart of the Big Bear Lake Village, at Fire Rock Burgers and Brews we strive to serve rockin' burgers, delicious beer battered fries, and a large selection of rotating craft beers!
Come enjoy a rock and roll atmosphere, dog friendly patios, have your kids design a guitar pick kid's menu for our "pick wall" and don't forget to check out our local live music!
618 Pine Knot Ave, Suite B, Big Bear Lake, CA.
909-878-0696
Website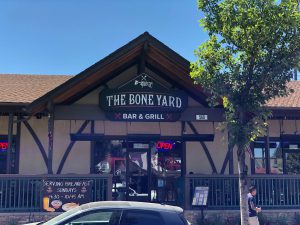 3 guys were sitting around a table in Vegas after a meal. They looked down at the plate a the center of the table and saw a "Bone Yard" Years later, The Bone Yard came to fruition!
Amazing BBQ Restaurant and Catering.
On and Off Site Catering Available

560 Pine Knot Ave, Big Bear Lake, CA.


909-878-0401


Website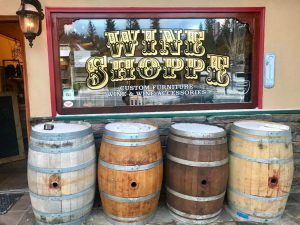 Nestled in the mountains of Southern California, Barrel 33 provides an elegant and inviting environment for locals and tourists to come together and share their love of wine… As avid hikers and wine lovers ourselves, we're committed to creating a place for those that appreciate wine, and the finer lifestyle that comes with it. Whether it's gathering at a family dinner or sharing wine with friends, we want to help you create memories that will last a lifetime. So come visit, relax, and enjoy a glass of wine! Now offering curbside pickup & delivery (min $50 or more Valid proof of id required)
40754 Village Dr Big Bear Lake, CA
909-878-0838
Website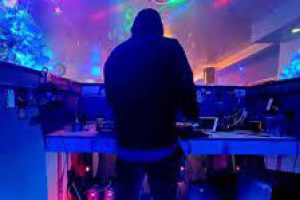 Don't just read about us, come on in and have our bartenders make you the perfect cocktail!
DJ Thursday, Friday, Saturday
HIP HOP – TOP 40 – EDM – HOUSE
664 Pine Knot Avenue, Big Bear Lake, CA
909-866-7377
Website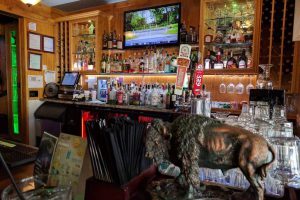 Amazing and creative Martinis, Classic cocktails featuring fine spirits, a wide variety of wines and many delicious non-alcoholic beverages. Come for an evening of cocktails, spirits and live music (weekends only) in a cozy, wood-accented bar with a fireplace. Closing time is 1 a.m. Friday-Saturday. Midnight on Sunday.Club Bombay for an evening of cocktails, spirits and live music (weekends only) in a cozy, wood-accented bar with a fireplace. Closing time is 1 a.m. Friday-Saturday. Midnight on Sunday.
672 Pine Knott Ave Big Bear Lake, CA
(909) 878-0377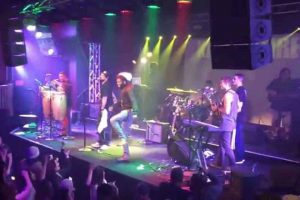 The Cave is a truly one-of-a-kind concert and comedy venue in the heart of Big Bear. The lighting, sound, laser light shows, gourmet concessions, craft beer, comfortable seating, room to dance, and of course amazing acts are not common for such an intimate venue. It is this perfect mix of location, amenities, and amazing live entertainment that make The Cave a venue that will bring you closer to your favorite bands than you ever thought possible.
40789 Village Dr, Big Bear City, CA
909-878-0204
Website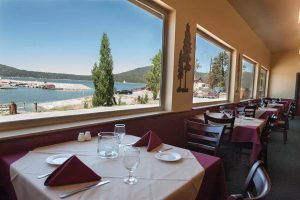 Sit back by the fire and enjoy what is truly the Best View on Big Bear Lake. Sip a martini, an original Gin Cocktail or try one of our many beers or wines in casual, yet classic, tavern charm. Enjoy live music in our piano lounge, every weekend, featuring the Piano Artistry of Mike Cross and friends. Gaze at a breathtaking sunset and glistening lake, and you may even spot an eagle!  When you prefer relaxing out in the fresh mountain air, kick back on our new Juniper Lakeside Terrace (coming in Spring). We can also produce a spectacular shoreline wedding on Big Bear Lake.
 330 Alden Road, Big Bear Lake, CA.
909-878-0506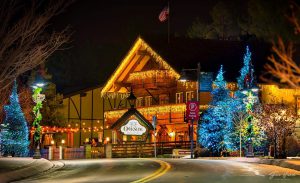 We offer a dining downstairs with several cozy and private booths, as well as tables with views of the Village. Our heated patio is ever popular and boasts a large fire pit with surrounding bar-height seating with live music on the weekends. This is the perfect place to enjoy a cocktail or glass of wine as you watch the passers-by. Upstairs you will find a full-bar with bar seating, bar tables and a large lounging section. Watch your favorite sporting event on one of our many TV's at the bar.
40701 Village Dr, Big Bear Lake, CA
909-866-5555
Website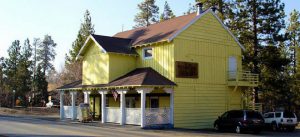 Big Bear Mountain Brewery
On Sept. 21 the Big Bear Valley Historical Society put up a plaque at Big Bear Mountain Brewery and Restaurant to mark the building's historical significance. (The building was built in 1925 as a Masonic lodge) Now we're an affordable Micro Brewery & And Full Service Restaurant That's Dog Friendly!

House microbrews, homemade chili & pub grub in a cozy historic space filled with memorabilia.
40260 Big Bear Blvd, Big Bear Lake, CA
909-878-0616