SkyPark at Santa's Village
We are an adventure theme park located at the iconic Santa's Village near Lake Arrowhead, CA.
The Village has been meticulously restored for new generations of guests for years to come!
Our attractions are all designed for families and friends to get outside and use their bodies in the fresh mountain air: world-class mountain bike trails, ziplines, ice or roller skating, rock climbing and bouldering, archery, bungee-trampolines, pedal cars, and the North Pole Train.
We also have a delightful and entertaining cast of characters from the Northwoods including Santa and Mrs. Claus, Celwyn Claus, Princess SugarPlum, Princess Evergreen, Arrow, and many more.
Our Tunes in the Trees brings together great local bands and music lovers in our beautiful forest setting.
We also have 2 restaurants, pub, coffee shop, bakery, and candy and ice cream shop.
Our gift stores have unique and wonderful wares.
Our Adventure Center has bike rentals and all you need to experience your next adventure.
Just a few of the activites offered at SkyPark at Santa's Village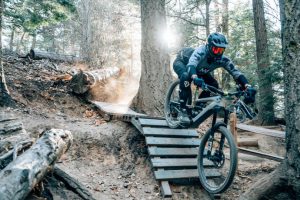 Whether you're a new or experienced rider, the trails at SkyPark at Santa's Village are an exciting place to mountain bike with your friends and family. The mountain biking at SkyPark Bike Park is in a league of its own. The trail network winds through a thick canopy of pine trees and sports several well marked, directional mountain bike trails for the beginner to advanced rider. There are also 2 skills areas as well as a large and a small pump track for our youngest riders. Our trails are groomed daily, the berms and jumps are just perfect and our wood features are beautifully crafted and an exciting new challenge for most riders.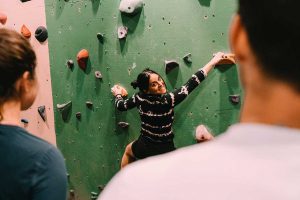 Magic Tree Bouldering Room
Our Magic Tree Bouldering Room offers 12 foot climbing walls suitable for all ages and skill levels.
The padded floor ensures that beginners can practice their rock climbing form with no fear of falling and our helpful adventure crew are always happy to give you the basics.
Soon you'll be hanging from the ceiling in this cave-like climbing experience.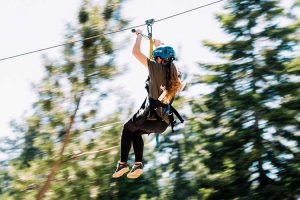 Zoom through the trees as you zipline an exhilarating 30 feet above the forest floor. A journey of 600' takes you to a zip jump exit where you'll want to run back and fly again! With the crisp mountain air in your face and the gorgeous views of the Northwoods below, you'll never want to stop soaring over the Park. Harnesses are provided for full safety of all age groups, so every member of the family can enjoy flying like a bird. The Adventure Zipline is one of the greatest adventures at the Park for true thrill-seekers.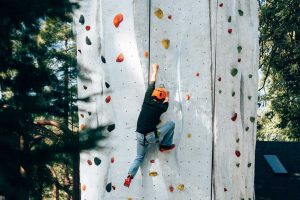 FLOKI'S FROZEN FALLS CLIMBING TOWER
Learn to ice climb on our 30 foot tower, reaching above the tree line.
Adventurers of all ages can imagine the excitement of scaling a glacial wall without the pesky risks of frostbite.
With three sides, climbers from beginner to advanced can find a challenge.
If you reach the top, you are rewarded with a view of the whole park.
The auto-belay swoops you down once you have conquered this frozen feat of strength and dexterity.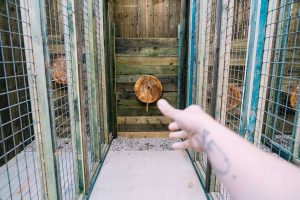 KING CELWYN'S AX CHALLENGE
As part of the Royal Games you will need test your skills at King Celwyn's Ax Challenge. Learn Old World Techniques that the Knight of the NorthWoods have known for millennia. Learn techniques in holding, positioning, and targeting!
Watch for King Celwyn! He frequently visits to make sure his squires are earning their Knighthood.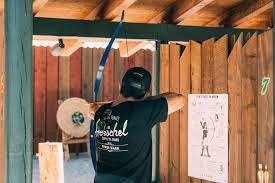 PRINCESS EVERGREEN'S ARCHERY RANGE
The ancient tradition of archery is one that commands respect and takes time and discipline to master. Princess Evergreen is known throughout the Kingdom of the Northwoods as a skilled archer. Her bow, called Holifrost, is her weapon of choice for thwarting the plans of her nemesis Jack Frost.
Our trained Adventure Crew will give you a basic lesson on the physical aspects of archery. With your precise aim and fierce arm, you too might prove to be a fierce hunter or warrior and worthy of being Knighted by the King of the Northwoods.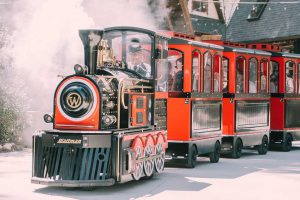 NORTHWOODS EXPRESS TRAIN RIDE
Take a trip in our four car electric powered train. Patterned after the original train ride of the first Santa's Village, this tour takes you on a loop around Candy Cane Lane and up to Gingerbread Square. The conductor also points out all the major buildings of SkyPark at Santa's Village, giving interesting facts and history about each site as you and your family ride by in style. The conductor may even let you blow the train whistle! Choo choo your way over to the Pavilion to board the train and start this historic journey into America's railroad days.