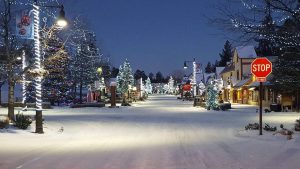 https://www.bigbear.com/things-to-do/the-village/


At the heart of Big Bear Lake you'll find a charming district known as The Village that serves as the hub for shopping, dining and entertainment. It's also the site of annual city-wide holiday events like Halloween and Christmas in The Village. Aside from it's unique goods and delicious dining, The Village is a beautiful sight in any season. Bright green trees in the spring and summer line the streets offering shade to visitors while manicured planters burst with colorful blooms. In fall, the leaves show off their crimson, orange, and yellow hues bringing a warm glow to the Valley. Wintertime transforms The Village into a snowy wonderland with holiday lights twinkling in the trees. Yes, you'll want to add this little spot to your getaway bucket list.


The Village Cuisine
Cuisine throughout the Valley ranges from Latin to Italian, Chinese to Thai, Japanese to Nepalese, Tropical to American and really anything else you can imagine. Take your taste buds on a gastronomic journey and explore flavors and entrees that'll have you coming back for more!Dining and nightlife in The Village knows no limit. Local pubs and wine bars are serving up some mighty fine grub with the perfect draft or wine pairing and sweet shops have all of your apres meal options covered.


The Village Shopping
Walk off the evening's meal and browse dozens of unique shops and emporiums around The Village. From cooking and kitchen supplies, to athletic wear, unique foods, and art galleries, there's little you won't find in Big Bear's shopping hub. You can even shop for your canine friend, create your own candles and stain glass artwork, or shop for your next home. So go ahead and get lost in it all; it's when you find the best things!


The Village Entertainment
Enjoy a night out in The Village at a variety of entertainment venues. Spend some time boosting your bowling average – or cringing at your gutter ball at The Bowling Barn. Up for a challenge? Grab your friends and put your puzzle solving skills to the test! How long will it take you to escape one of Mountain Room Escapes escape rooms, or navigate Urban Adventure Quests' scavenger hunt?


Parking in The Village
The Village has free parking in multiple city lots and in front of shops on Village Dr. and Pine Knot Ave. There are public parking lots located on Bartlett Rd., Knickerbocker Rd., Pennsylvania Ave., Alden Rd. and behind the Oakside Restaurant.