Big Bear Lake is a great place to go hiking.  There are trails for every skill level. Choose from paved and easy or rocky and advanced, or anything in between! Each Big Bear trail offers a unique take on the San Bernardino National Forest.
Adventure Passes:
An Adventure Pass is required for parking at U.S. Forest Service trailheads. Daily Passes are available at the Big Bear Visitors Center, however if you have an America the Beautiful (National Park) Pass, you can use that instead. Just leave it on your dashboard before you head out on the trail.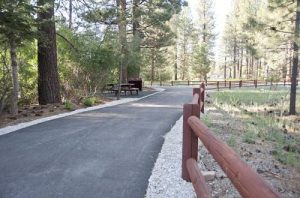 Happy Hills Trail – .2 miles one-way – Very Easy
Added in 2017, this ADA friendly route allows anyone to enjoy Big Bear's trails system! The fenced and fully-paved path begins from the City Hall parking lot. Trail users can admire historical buildings and protected wildlife along the .2 mile stretch and picnic at any one of the numerous tables along the way.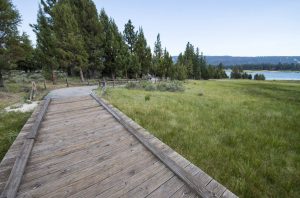 Alpine Pedal Path – Very Easy 2.5 miles One Way
This asphalt path meanders along the sparkling north shore of Big Bear Lake from Stanfield Cutoff to the Solar Observatory and Serrano Campground. This path features gentle ups-and-down as it winds through mature trees and meadows. An underground tunnel connects the path to the Cougar Crest Trail parking lot and continues on to the Big Bear Discovery Center where hikers can find water, restrooms, Adventure Parking Passes and local experts. Seasonal parking is available at Juniper Point Picnic Area and Meadow's Edge Picnic Area (Adventure pass required for picnic area parking).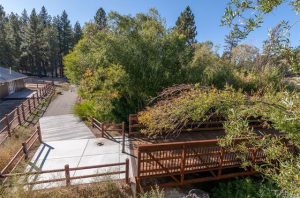 Rathbun Creek Trail – Very Easy


This flat and paved path along Rathbun Creek is perfect for strollers or wheelchairs. Trail starts at Elm Street, the stretch between Moonridge Road and Catalina Road.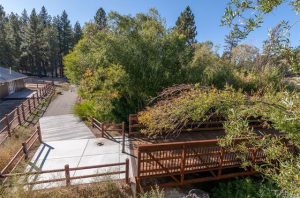 Stanfield Marsh Boardwalk
Stanfild Marsh Boardwalk – Very Easy

This walking route takes visitors through the Stanfield Marsh Wildlife and Waterfowl Preserve which offers refuge to Big Bear's avian population. Take time to read through the info boards to learn about the Valley's diverse ecosystems and be sure to being your camera! Park at the corner of Big Bear Blvd and Stanfield Cutoff. Minimal parking is available for this route so you may want to gauge crowding before choosing to stop by.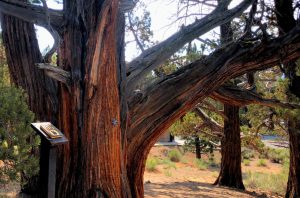 Woodland Interpretive Trail
Woodland Interpretive Trail – 1.5 mile loop – Easy


Head out on this 2.57 km, loop trail near Big Bear City, California. Generally considered an easy route, it takes an average of 48 min to complete. This is a very popular area for hiking, horseback riding, and mountain biking, so you'll likely encounter other people while exploring. The best times to visit this trail are March through November. Dogs are welcome, but must be on a leash.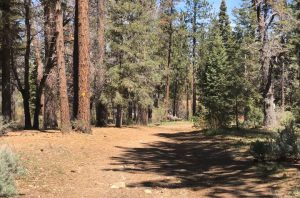 Bristlecone Trail – 2.9 mile – Easy
Head out on this 2.9 mile, out and back trail near Big Bear Lake, California. Generally considered an easy route, it takes an average of 1 h 15 min to complete. This trail is great for hiking, trail running, and walking.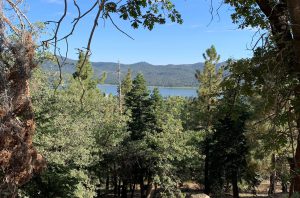 Towne Trail – 2.5 mile Loop – Easy
Try this 2.5 mile, out and back trail generally considered an easy route, it takes an average of 1 h 21 min to complete. This is a popular trail for camping, hiking, and trail running, but you can still enjoy some solitude during quieter times of day. The best times to visit this trail are March through November. Dogs are welcome, but must be on a leash.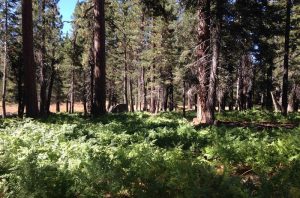 Champion Lodgepole Trail – .6 mile one way – Easy
The Champion Lodgepole Pine Trail is a must-see on your trip to Big Bear. The area is beautiful and more lush than all the other areas in the mountains around Big Bear Lake. The best thing is that the trail is great for families with young children and grandparents. The trail is an easy 1/2 mile walk through the forest and along a little stream. The stream is seasonal and the water that flows here comes from rain and snow that percolates in the soil above and then underground rock causes it to surface along this stream.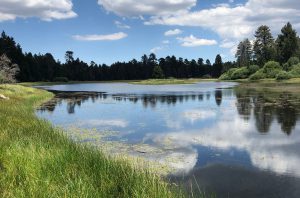 Bluff Lake Reserve Trail – 1.9 mile loop – Easy
The Bluff Lake Loop is located in the Bluff Lake Reserve which is managed by The Wildlands Conservancy. The short loop trail is very easy and features a rich diversity of wildlife, natural plants and a scenic alpine lake. The trail is popular for families, hikers and strollers. It is a little bit off the beaten track and is normally quiet. Bring a camera for great photo opportunities.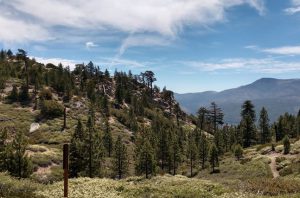 Grandview Trail – 9 miles – Beginner/Intermediate
A popular novice trail for hiking and biking, this adventure starts at Snow Summit with a ride on the Scenic Sky Chair to the top of the mountain. You'll follow the Skyline Trail to Grandview Point Junction. This will be a longer trek, about 7.5 miles. There will be a fork in the trail where you have the option to go 2.5 miles to Grandview Point or loop back. Note: Dogs are not allowed on the Scenic Sky Chair.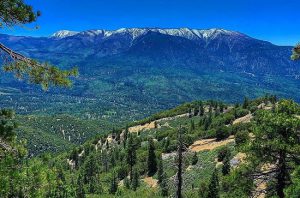 Grandview Trail – 6 miles round trip – Intermediate
Pine Knot Trail begins at the Aspen Glen Picnic Area on Mill Creek Road. The trail winds through stands of white fir and Jeffrey pine, oaks and manzanita; crosses the 2N08 and skirts alongside the Deer Group Camp. You'll end up at the 2N10 where you can hop on the Grandview Point trail for a .25 mile walk to the top for spectacular views of Mt. San Gorgonio.Experienced hikers make the round-trip in 3 hours or less. Families can pack in a picnic and have a wonderful half-day adventure. MTB riders can take the trails (or Cabin 89 Trail) from the same picnic area for a thrilling single-track experience!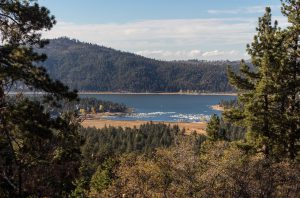 Cabin 89 Trail – 2 miles one way – Intermediate/Difficult
As a hike, Cabin 89 is a moderate to intermediate climb. As a bike trail, steep and rocky sections make Cabin 89 more advanced – both uphill and down. Access is from the Aspen Glen Picnic Area, you will see signs for Pineknot Trail along the way. This is a popular mountain biking single track so stay alert for bikers.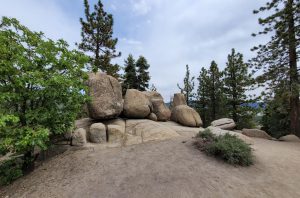 Castle Rock Trail – 2.4 miles round trip – Intermediate/Difficult
One of the most popular trails in Big Bear Lake with a great view of the lake at the top.  Located 1.1 miles east of the dam on Hwy 18. The trail meanders through large boulders and mature trees. Limited parking on the north side of the highway 50 yards east of the trailhead (walking on highway is requried to get to trailhead. Use caution.) This trail has a steep climb that will get your heart pumping for the first half-mile and then levels out as you make your way towards Castle Rock.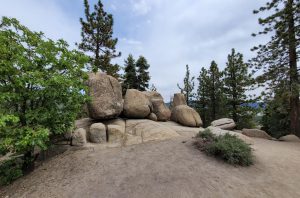 Cougar Crest Trail – 4 – 5.5 mile loop – Intermediate/Difficult
The Cougar Crest Trail winds its way through the majestic San Bernardino National Forest in Big Bear, CA. The trailhead is on North Shore Drive, about a half-mile from the Big Bear Discovery Center. If you don't mind walking that half-mile and are looking for Cougar Crest Trail parking, you can park in the Discovery Center's parking lot. Otherwise, you can pay to park at the trailhead. The elevation of the Cougar Crest Trail is 6,880 feet at the trailhead, and you will climb another 720 feet along the course of this trail.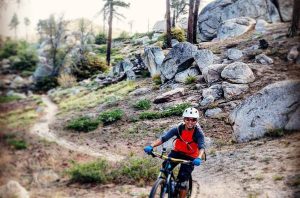 Grout Bay Loop Bike Trail – 13 miles – Intermediate
This hike and bike trail starts from the trail head parking lot, or you can head the opposite way from the Fawnskin Fire Station up to 3N14 to Hanna Flat campground and catch the trail there. Either way, the trail climbs and descends through a range of landscapes. Rattlesnakes can inhabit the area so be alert!
Note: Adventure Pass or America the Beautiful Pass required.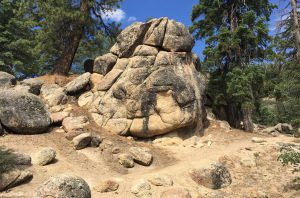 Hanna Flat Trail – 7.8 mile loop – Intermediate
Trailhead starts from the Hannah Flat Campground north of Fawnskin. Trek through a variety of landscapes from pine forests, to the sandy and low shrub environments, to lush streams. This trail also connects to Greys Peak. This trail is great for camping, hiking, and mountain biking, and it's unlikely you'll encounter many other people while exploring. The best times to visit this trail are May through October.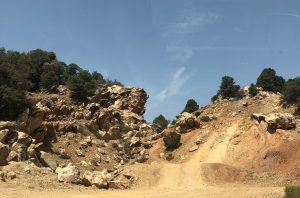 John Bull Loop Trail – 14.9 miles – Advanced/Expert
To complete this loop you'll need stamina and basic navigation skills. Start at Van Dusen Canyon Rd. (3N09) and head up 3.5 miles to Holcomb Valley to 3N16 turn left, to 3N07 turn right, to 3N43 turn left to "The John Bull Trail" (3N10). It's about 3 miles of venturing before you come to 3N32. Turn right to 3N16, take another right at 3N09 which will lead you back to your starting point.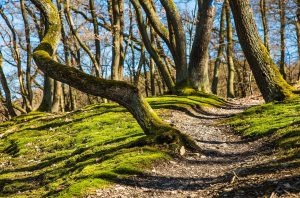 The Skyline Trail – 15 miles loop – Beginner/Intermediate
The 15-mile iconic Skyline Trail spans the mountainous ridge of the South Shore of Big Bear. Much of the trail parallels the 2N10. To the south you'll catch views of Mt. San Gorgonio and to the north you see glimpses of the lake. Hike or ride the entire length to test your endurance or use various trails and roads to head back to town.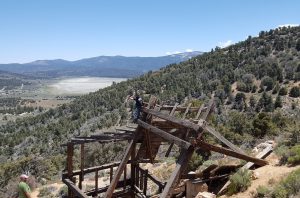 Gold Fever Trail – Self-Guided Driving Tour – 12.3 miles
Go at your own pace on this easy off-road adventure through Holcomb Valley. This scenic route takes you through an area that was thriving with activity during the gold rush of the 1860's. At 12 selected markers you can get out of your vehicle and walk to the sites. See abandoned mines, grave sites and more. Stop at the Big Bear Visitor Center for brochures and info. Great family adventure. Pets on leash welcome.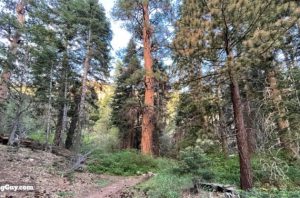 Sugarloaf Recreation Trail
Sugarloaf National Recreation Trail – 10 mile loop – Advanced
From the south end of Stanfield Cutoff on Big Bear Blvd. Hwy 38 continue for 6 miles heading south toward Redlands.  Turn right on 2N93, at the intersection of Hwy 38 and Hatchery Road.  Follow this dirt road until you reach the Sugarloaf Trail sign and park turnout.  The first 2 miles of trail is a rough and rocky road, at times following Green Creek.  The view at the top is mostly obscured by trees but with an altitude of 9,952 feet, the highest point in the Big Bear Valley and is one of the 7 peaks in Big Bear.